Lathe Slitting
We offer two forms of log-slitting services – lathe slitting and rewind slitting
Our lathe-slitting capability enables us to cut larger master log rolls of material (adhesive or non-adhesive) up to 1500mm wide down to widths as narrow as 1mm. This gives you the exact width of tape for a specific job, minimising material costs.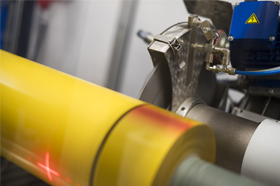 Our three machines are automated and pre-set with specific slitting parameters to suit given materials and sizes. This ensures the exact replication of a high-quality slit material at any time.

Log slitting is normally the starting point for other conversion processes. Our ability to slit here in house enables us to produce specific roll widths perhaps for further downstream die-cutting operations – helping to minimise material waste and cost.

Our log-slitting machines enable us to offer an excellent service to our customers. While we always stock standard width sizes, our machines enable us to meet the needs of customers requiring a specific size – and within a fast turnaround time.

All material is sleeve-wrapped in UV-resistant polythene bags with individual rolls separated with silicone-coated release liner paper washers. Each sleeve of material is labelled with a part number, description and sleeve quantity. Individual rolls can be batch numbered if required. If you have specific labelling or marking requirements (such as bar coding) we can also help. We can also offer a slitting service using your own log stock material.
Rewind Slitting
With rewind slitting, material is off-wound through multiple shear, perforation or razor blades which are pre-set to a given width, and then rewound onto a core, to any given length.
Different materials can be laminated at this stage to provide composite products re-wound on a variety of core sizes. We can slit the following materials: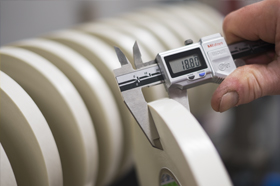 Single and double-sided adhesive tapes
Cloth fabric
Foams
Foils
Rubber
Cork
Magnetic tape
Safety flooring
UHMW and polyurethane tapes
Films
Release liners
Sign vinyl.