OUR CAPABILITIES
Adhesive tape can be formatted to make application within assembly or production operations easier and therefore more cost effective.

This may be as simple as creating a precise width of tape to fit within a channel or onto a fixture. Eliminating the need for knives and blades in the process offers obvious health & safety benefits. There are other benefits too. Using a roll of tape cut to size ensures you only pay for the material you really need, helping to minimise labour and assembly costs.

We may be able to help you further, by cutting tape to a specific length laminate presented on an easy-peel 'release' liner and delivered to you as a bespoke product in the correct width and length.

We can also create specific shapes. Perhaps, for example, you require tape to form a gasket and bond two parts together without using traditional fixings such as bolts, screws or rivets.

We know many operators use gloves when handling adhesives but, while wearing them, removing the protective liner from double-sided adhesive is tricky and time-consuming. We can help by incorporating tabs or liner extensions to your tape, ensuring that even when wearing gloves the operator can remove the lining easily. Our 'Fingerlift' liners also prevent the surface of the adhesive from being contaminated.

We're keen to see how you use our adhesive products on your site – and we'd be pleased to suggest improvements to help your processes run more smoothly.

The benefits of using converted tape:
Labour and assembly times can be reduced, boosting efficiency and saving money
We supply exactly the product size or shape you need, reducing base material costs and wastage
Removing the use of traditional fixings can improve the aesthetics of products
Quality and performance standards are maintained, lowering rejection rates
Volume production and assembly systems can be simplified, increasing productivity and achieving long-term cost savings.
When it comes to adhesive tape conversion, Genfab offers:
Log slitting
Sheeting
Padding or cutting to length
Flatbed die cutting
Rotary die cutting
Swing beam press die cutting
Roller press die cutting
Rewinding
Laminating
Contract converting
Project management.
Lathe Slitting
We offer two forms of log-slitting services – lathe slitting and rewind slitting
Our lathe-slitting capability enables us to cut larger master log rolls of material (adhesive or non-adhesive) up to 1500mm wide down to widths as narrow as 1mm. This gives you the exact width of tape for a specific job, minimising material costs.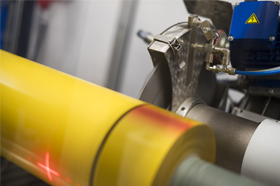 Our three machines are automated and pre-set with specific slitting parameters to suit given materials and sizes. This ensures the exact replication of a high-quality slit material at any time.

Log slitting is normally the starting point for other conversion processes. Our ability to slit here in house enables us to produce specific roll widths perhaps for further downstream die-cutting operations – helping to minimise material waste and cost.

Our log-slitting machines enable us to offer an excellent service to our customers. While we always stock standard width sizes, our machines enable us to meet the needs of customers requiring a specific size – and within a fast turnaround time.

All material is sleeve-wrapped in UV-resistant polythene bags with individual rolls separated with silicone-coated release liner paper washers. Each sleeve of material is labelled with a part number, description and sleeve quantity. Individual rolls can be batch numbered if required. If you have specific labelling or marking requirements (such as bar coding) we can also help. We can also offer a slitting service using your own log stock material.
Rewind Slitting
With rewind slitting, material is off-wound through multiple shear, perforation or razor blades which are pre-set to a given width, and then rewound onto a core, to any given length.
Different materials can be laminated at this stage to provide composite products re-wound on a variety of core sizes. We can slit the following materials: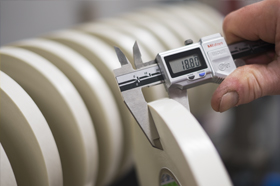 Single and double-sided adhesive tapes
Cloth fabric
Foams
Foils
Rubber
Cork
Magnetic tape
Safety flooring
UHMW and polyurethane tapes
Films
Release liners
Sign vinyl.