DIE CUTTING
Die cutting represents a high proportion of the complex conversion work we carry out at Genfab.

Our extensive range of die-cutting equipment is suitable for converting a variety of adhesive or non-adhesive materials. We select the perfect equipment to use based on the material itself, the quantity to be produced and the individual tolerances required.

Our equipment allows for:
Flatbed die cutting
Rotary die cutting
Swing beam press die cutting
Roller press die cutting.
We use methods known as 'through cutting' or 'cut to liner' (sometimes referred to colloquially as 'kiss cutting' or 'butt cutting') to create almost any conceivable shape and size.
Here are some examples of typical formats:
Flatbed die cutting
For low to medium volumes of adhesives we tend to utilise one of our five flatbed die cutting machines. These roll-fed machines allow the creation of both simple die-cut shapes from a single material laminated to a silicone release liner, or complex die cuts from a composite lamination of materials.
We can offer kiss-cut, butt-cut or through-cut shapes of up to 305mm x 305mm. These shapes may also incorporate an easy-release tabbed top liner if required.
The finished product will have all outer and possible internal waste removed and be presented either as a roll or as individual sheets comprising a number of components.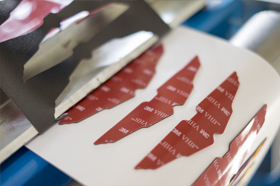 The steel rule tools we use are accurate and very cost effective for low-volume production runs. For cutting intricate shapes in thin material we offer flexible dies mounted in magnetic tool stations within the machines.
As well as incorporating the shape of the finished part, our tooling can incorporate location holes for product alignment or for use with automated application machinery.
Key to the success of a die-cut presentation is understanding release liner technology. We have excellent working relationships with the small number of UK experts in this field, covering both paper-based and filmic technologies.
Our tooling partners offer us a fast turnaround time on tooling orders. Once they have a digital drawing, tools typically take 24-48 hours to be produced. If you want, we can create a drawing for approval based on a sample part.
Our flatbed die-cutting machines and tooling are often used to provide low-cost prototype samples at the early stages of a die-cut project.
Our high-quality processes ensure that all tooling is dimensionally checked and approved against the creation drawing, firstly with samples and then following our stringent customer sample approval process.
Rotary die cutting
Our rotary die-cutting equipment can be used in a number of ways. The high-speed nature of the machines makes them ideal for a large production run of die-cut shapes. The equipment can incorporate multiple tooling and lamination stations, making them ideal for shorter runs of more complex composite lamination and the die cutting of materials. Out machines mean we can also offer printing capabilities and the facility to re-roll, perforate, slit or sheet the finished product.
We can offer you finished products presented on a roll that is either kiss cut or butt cut to a secondary release liner, as individual sheets of finished product or as multiple finished products on a single sheet.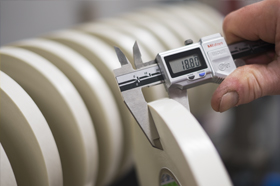 We also offer finished product rolls that are 'adhesive exposed', in either a die- or butt-cut format.
Our rotary die-cutting machinery can cut material up to 250mm in width with a tolerance of +/- 0.15 mm, depending on the material.
As with flatbed die cutting we require a drawing, ideally in electronic format, to give to our toolmaker.
We offer two types of tooling, depending on material thickness.
Flexible tooling attaches to a standard diameter magnetic cylinder and is suitable for die cutting thinner products (of up to 0.7mm). Flexible tooling is quick to produce (within 48 hours) and very cost effective.
Solid tools may be required for thicker products or for very large production runs. They typically take five to seven days to produce. We will happily advise on the most economic tooling options for you, which will also optimise material yields and therefore reduce your overall material costs. Picture of solid / flexible tooling.
We offer two other forms of die cutting:
Roller-press die cutting
Our roller press allows us to produce much larger adhesive and non-adhesive die cuts of up to 800mm x 2.5m in length. These are used for through-cutting material only, although we can incorporate tabbed liners if required.
Swing-beam press
For smaller adhesive and non-adhesive through-cut shapes, we may use our swing-beam presses.
Both the roller- and swing-beam presses use steel-rule tooling. The fast setup features of these machines makes them ideal for producing prototype samples as well as low-volume production runs.